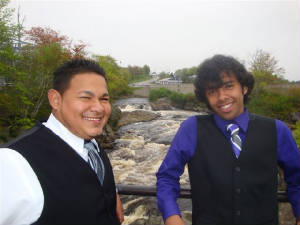 Two DK students dressed up for their junior prom!
Placement Services to International Families
DK will guide you through the process of finding the best school for your son or daughter. For complete service, we will meet you at a New England airport, take you on a "School Tour", make all arrangements, assist with interviews, applications and selecting the appropriate school that is in the best interests of your son or daughter. DK will provide assistance in finding an ESL (English as a Second Language) program for the summer prior to your student's first enrollment. For guardian service, DK will visit your student durng the adjustment period, represent you as a parent at all parent programs and bring your son or daughter to either our homes or homestay with another American family. We will arrange all vacations to ensure that your student is safely supervised. DK will ensure that your student is able to broaden his or her world with the diverse opportunities available in the United States. DK will always keep the future goals of the best college for your student as a high priority. Most importantly, DK will care for your son or daughter as we would our own children.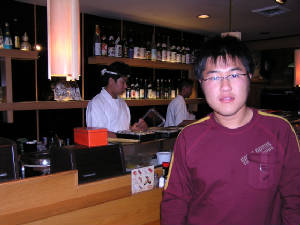 One of our students at a sushi bar in Portland, ME.